About Products Find me at Specials Recipes Contacts & Ordering
Orders put in by December 15 will be shipped by the 18th for Christmas delivery, orders put in after that will not be processed until after January 4th!
About Nordic Farms' Homemade Jams and Jellies
We have moved!!! We are all officially set up for business in the state of Missouri. We are in the very top Northeast corner not far from the Mississippi River. Our little "berg" of St.Patrick is up on a hill so we are not in any way to be affected by high water of the Mississippi. We have a longer growing season here and temperatures are typically a little higher that the Finger Lakes area of NYS. Most people have central air conditioning, we have in our house and have installed it in our canning kitchen.
We are once again in the heart of Amish and Mennonite Country!! We have a large crop of strawberries in my freezers this summer, probably more than I have had in many years!! Hopefully we can get some nice stone(peaches etc.) fruit as well.
There are wineries in the area that need to be checked out but have not seen a brewery or distillery!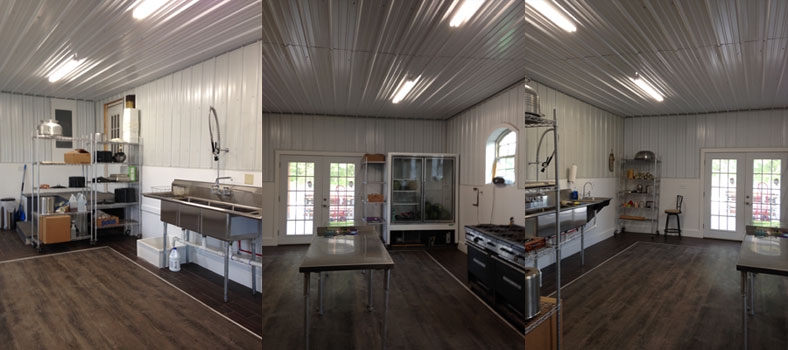 Our New Kitchen!!
Noreen, who grew up in a 4-H family, began making jams and jellies at an early age. While Noreen's mother and grandmother taught her the basics of canning and preserving, young Noreen took it upon herself to learn the art of jam making as a 4-H project for the local county fair. She won a blue ribbon, the first of many and was designated by her mother as the family's official jam maker!
Today Noreen has built upon her early knowledge, expanding her product line to over 110 jams, jellies, marmalades and preserves. Many of her recipes come from inspiration, while others are suggestions from customers, family and friends. "I always listen to my customers," says Noreen. "They always have great ideas!" In fact a number of our most popular products were originally customer requests.
I really enjoy what I do, "says Noreen." I enjoy making jam and developing recipes, and I love the farmers markets. I get to meet so many people from all over the country and have made some wonderful friendships with my customers and the other vendors. Plus, it's great to meet people who enjoy my products!?